Welcome!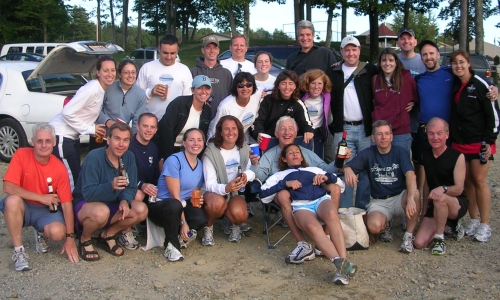 2008 - Lake Winnipesaukee Relay
The Melrose Running Club is a fun, social, supportive group of runners. The club was formed in 1996 with the charter to make a positive contribution to our community while promoting the sport of running. Although the ability of members varies from the new runner just developing a routine to the seasoned veteran training for their next marathon, each runner shares in the joy of running and the camaraderie that comes with running as part of a club. If you're looking for someone to run with meet us next Tuesday at 7PM at the Melrose Knights of Columbus!
MRC Dashboard
Tonight-36&degF-Isolated Rain Showers

Thursday-44&degF-Sunny
Thursday Night-21&degF-Mostly Clear

Friday-38&degF-Sunny
Friday Night-27&degF-Mostly Clear

Sunday-51&degF-Mostly Cloudy
Sunday Night-37&degF-Chance Rain Showers
---
SUNDAY CLUB RUN
Melrose High School Practice Field
Winter Route
Monday-47&degF-Slight Chance Rain And Snow Showers then Mostly Cloudy
Monday Night-25&degF-Partly Cloudy

Tuesday-34&degF-Mostly Sunny
Tuesday Night-24&degF-Partly Cloudy

---
TUESDAY NIGHT RUN
26&degF, Partly Cloudy

On Hiatus until Spring 2021
First Tuesday
Donation - Shampoo/Conditioner


Front Page News
MRC
- January 1, 2021 - MRC Club Run Cancelled - Due to Tropical Storm Isaias the MRC Tuesday Night Club run will not be held on 8/4. Enjoy your First Tuesday Run, Pizza, and Beer on your own.
MRC
- July 25, 2020 - COVID-19 Update - The Melrose Running Club is back! Following the guidance from federal Center for Disease Control (CDC), the State of Massachusetts, and the Road Runners Club of America (RRCA) and coordinating with the City of Melrose, we'll hold club runs at the
Melrose High School Practice Field
at 9AM on Saturday and Sunday Mornings until further notice. All members must review the
MRC Runner Expectations
and e-mail or text your name to saturday@melroserunningclub.com or sunday@melroserunningclub.com prior to participating in each run. If you have questions or comments please feel free to reach out to the MRC Board at board@melroserunningclub.com.
MRC
- January 1, 2021 - MRC Sunday Long Run - There will not be a formal Winter 2021 SLR. If MRC runners want to virtually train, they can join and post their training experiences at
MRC SLR Facebook Group
MRC
- June 13, 2020 - The Melrose Running Club's charter is to make a positive contribution to our community while promoting the sport of running. We are committed to providing an inclusive environment free of bias and discrimination for our members. We acknowledge that in our society not all people have the same privileges to run freely without fear. We stand with communities of color and against racial bias and violence. We encourage our members to reach out as we continue to promote diversity and stand against racism to build a stronger, more inclusive running community.
February 24, 2021
MRC
- Happy Birthday wishes go out to Andy Nickerson
February 22, 2021
MRC
- Happy Birthday wishes go out to Jessica Rushton
February 19, 2021
MRC
- Happy Birthday wishes go out to Darren Brown and Karine Latreille
February 17, 2021
MRC
- Happy Birthday wishes go out to Jean Terranova
February 16, 2021
MRC
- Happy Birthday wishes go out to Stefanie Guarino and Katherine Kulig
February 14, 2021
MRC
- Happy Birthday wishes go out to Brian Walfield
February 13, 2021
MRC
- Happy Birthday wishes go out to Margot Dillon
February 12, 2021
MRC
- Happy Birthday wishes go out to Adelina Barnes
February 9, 2021
MRC
- Happy Birthday wishes go out to Sarah Pilcher
February 8, 2021
MRC
- Happy Birthday wishes go out to Kerri Haskins
February 7, 2021
MRC
- Happy Birthday wishes go out to Lisa Cole
February 4, 2021
MRC
- Happy Birthday wishes go out to Lauren Cossette
February 3, 2021
MRC
- Happy Birthday wishes go out to Samantha Bookman
February 1, 2021
MRC
- Happy Birthday wishes go out to Andrew DiNatale, Hillary Leonard and Kate Millington
January 31, 2021
MRC
- Happy Birthday wishes go out to Jill Weiner
January 30, 2021
MRC
- Happy Birthday wishes go out to Kara DeNutte, Yvonne Liu-Constant and Lois Parker Carmona
January 28, 2021
MRC
- Happy Birthday wishes go out to Amante Coppes
Melrose Running Club - PO Box 761022 - Melrose, Massachusetts - JimCarson@MelroseRunningClub.com